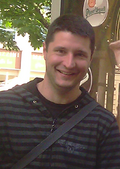 Dragutin Čičulić , Software Developer at ZZ Baćo
IT
http://www.baco.co.rs
Bilateral Meetings
21.02.2013 Thursday (13:30 - 16.00)

Company is founded in 1993. and since 2006. IT sector began to develop own solutions. First solutions were implemented in ZZ Baco, and, proven as good, then are offered to the market. Since then, we continualy grow and develop. Now we stand for one of the pioneers of introducing IT in agricultural production.
Country: Serbia
Organization Type: Company
Organization Size: 1-10
Founding Year: 1993
Phone: +381 21 794 250
Email: dragutin.ciculic@baco.co.rs
City: Vrbas 21460,M.Čobanskog 164 Google map
Areas of Activities
Offer
Database security and development
We offer wide range of database services, from planning and developing to administering
Cooperation Offered
Outsourcing co-operation
Technical co-operation
Offer
Software development
We offer services of consulting, planning and developing software and database solutions.
Cooperation Offered
Outsourcing co-operation
Technical co-operation