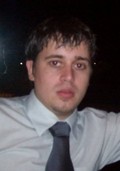 Jovan Tisma , COO at Throne Solutions
Management
http://thronesolutions.rs/
Bilateral Meetings
21.02.2013 Thursday (13:30 - 16.00)

Throne Solutions:

The company was established in January 2012 after having spent more than two years developing our software solution.

Our main product:

Throne CNBS backup software offers a fully automated feature, making it easier than ever before to take backups off your hands once and for all. With minimal dedicated employee time and resources going to your backups, you can redirect your focus where it should be – on your core business – while at the same time realizing significant cost savings. With Throne CNBS you will also substantially reduce your capital expenses because we provide a full working enterprise version with no hidden costs on the basis of your existing network and hardware.

Throne Solutions was successfully integrated in the service offerings of:
Development of software
IT Consultants and Solutions Providers
Managed service providers
Systems Integrators
Disaster Recovery Specialists
Server migration

Team

Headed up by a young and dynamic group with knowledge and experience, we aim to grow and develop further each year. Our main focus is our team of IT experts which is constantly expanding as we develop. This development allows us to rapidly expand our product offering and continuously improve our existing portfolio.

Country: Serbia
Organization Type: Company
Organization Size: 11-25
Founding Year: 2012
Phone: +381 11 361 45 61
Email: j.tisma@thronesolutions.rs
City: Belgrade 11000,Vojvode Milenka 38 Google map
Areas of Activities
Telecommunications, Broadcast and Media
Local Government and Gov. Institutions
Offer
Backup and Disaster Recovery
Backup and Disaster Recovery plans,software
Cooperation Offered
Outsourcing co-operation
Technical co-operation
License agreement
Offer
IT Consulting and Solutions
IT System Administration,IT Migrations
Cooperation Offered
Outsourcing co-operation
Offer
Software Development
Cooperation Offered
Outsourcing co-operation
Idea
New android aplication and hardware for Health industry
blood sugar level
Cooperation Offered
Investment/Financing
Request
Investment/Financing
Investment/Financing for Throne CNBS backup software
Cooperation Offered
Investment/Financing
Request
Sales / Distribution
Sales / Distribution for our agentless backup software Throne CNBS
Cooperation Offered
Sales / Distribution
Request
EU funds
EU funds and partners