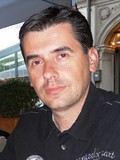 Dejan Pavlovic , CEO at Ates Nearsourcing d.o.o.
http://www.atesinternational.ch
Bilateral Meetings
21.02.2013 Thursday (13:30 - 16.00)

ates International was founded two years ago in Baden, Switzerland. The daughter company in Nis, Serbia was founded shortly after that. Currently, more than 50 young and educated people, both in Switzerland and Serbia, are working for Ates.

ates' vision is to be a reliable partner for software development (consulting, requirements analysis, design, development cycle, testing, implementation, maintenance etc.) and nearsourcing (HR management, Project management, Talent sourcing, Talent management etc.).

ates International might be a young company, but years of experience lie behind its management – Mr. Dragan Kinkela, one of the founders, has more than 12 years of experience as a project manager and team leader in complex software projects on the Swiss market, as well as in organization and management of outsourcing bussines and international sales. Mr. Dejan Pavlovic, GM of the Serbian company, has more than 20 years of experience in sales and implemantation of information systems on the Serbian market.

ates' strength is ability to recruite the best students from Serbian universities and offer them a possibility to work and develop themselves in an atractive enviroment, with interesting projects and new technologies. In the same time, ates has the highest international standards in project management and quality assurance. That way ates can offer a high quality of service to its international clients.


Country: Serbia
Organization Type: Company
Organization Size: 51-100
Founding Year: 2010
Phone: +38118521116
Email: d.pavlovic@atesinternational.ch
City: Niš 18000,Vazduhoplovaca br. 1 Google map
Offer
Software development
Cost effective SW development process in compliance with highest international quality standards
- web portals (social networks, community portals, couching portals, media portals, e-commerce etc.)
- PHP, .NET, Java
- mobile applications (iOS, Android)
Offer
Nearsourcing services
- three different nearsourcing models ("project", "classic", "project pool")
- talent sourcing & management
- large database of skilled SW engineers, graphic and web designers
- HR consulting, education, management and administration
- best infrastructure and working conditions
Cooperation Offered
Outsourcing co-operation